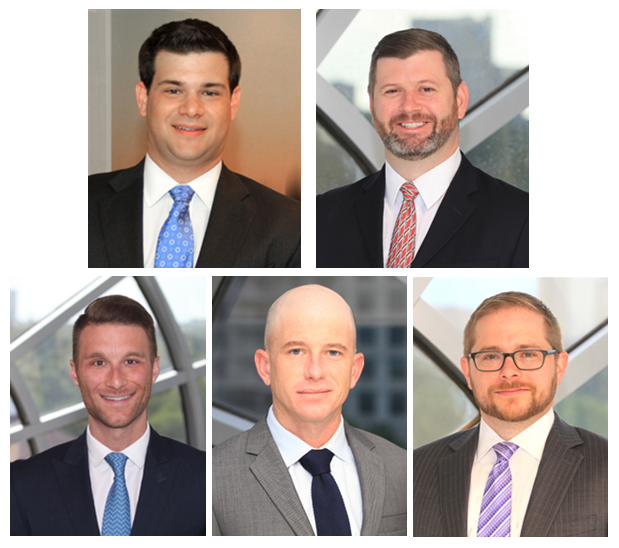 Dallas, Texas, January 3, 2022 – Wick Phillips announces the promotion of Greg Fijolek, Ryan Goins, Austin Green, Austin Hill, and Scott Lawrence as new Partners of the Firm. "Wick Phillips is pleased to announce and welcome these talented attorneys as partners," said firm managing partner David Drez.
Greg, a partner in the Firm's corporate securities section, is experienced in the formation, structuring and operation of operating companies, holding companies, joint ventures, private investment funds, and other entities.
Ryan, a partner in the Firm's real estate group in Fort Worth, represents clients in complex business transactions, with a focus on the acquisition, development, financing, operation, and disposition of commercial real estate properties.
Austin, a partner in the Firm's real estate section, focuses on commercial real estate transactions, including leasing, acquisitions and sales, and development.
Austin, a partner in the Firm's corporate group, represents parties on a broad range of transactions, including mergers and acquisitions, divestitures, joint ventures, and fundraising.
Scott, a partner in the Firm's bankruptcy section, represents both businesses in financially difficult circumstances and clients that are dealing with them, including creditors, lessors, lenders, equity holders, and purchasers of financially distressed companies.
About Wick Phillips
Wick Phillips is a full‐service business law firm serving clients across Texas and the United States. Founded in 2004, the firm has grown to more than 75 attorneys, specializing in all areas of business law—complex commercial litigation and appeals, corporate transactions, labor and employment, real estate, intellectual property, bankruptcy, insurance coverage, tax, and securities—with offices in Dallas, Fort Worth and Austin.
For more information, visit www.wickphillips.com.
View PDF