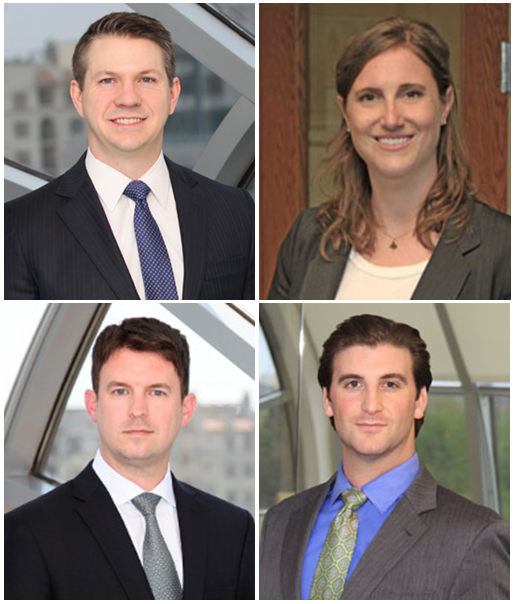 Dallas, Texas, January 4, 2021– Wick Phillips announces the promotion of Isaac Brown, Lauren Drawhorn, Jason Jones, and Ethan Minshull as new Partners of the Firm. "Wick Phillips is grateful to announce and welcome these accomplished attorneys as partners," said firm managing partner David Drez.
Isaac, a partner in the Firm's corporate group, represents lenders, borrowers, investors, and other parties in all aspects of finance, particularly commercial real estate finance, including in the areas of senior loans, mezzanine loans, and preferred equity investments.
Lauren, a partner in the Firm's litigation/bankruptcy group, provides counsel in contested plan confirmation hearings, preference and fraudulent transfer actions, automatic stay litigation, non-dischargeability actions, claim objections, sale hearings, and other bankruptcy-related litigation.
Jason, a partner in the Firm's real estate group, represents clients in retail, office, medical, technology, industrial, and other commercial real estate sectors, and is primarily focused on assisting clients with acquisitions, dispositions, leasing, construction, financing, and land development matters within these areas.
Ethan, a partner in the Firm's litigation group, is experienced in representing plaintiffs and defendants in cases involving breach of contract, fraud, breach of fiduciary duty, tortious interference, deceptive trade practices, and fraudulent transfer claims in both state and federal court.
About Wick Phillips
Wick Phillips is a full‐service business law firm serving clients across Texas and the United States. Founded in 2004, the firm has grown to more than 65 attorneys, specializing in all areas of business law—complex commercial litigation and appeals, corporate transactions, labor and employment, real estate, intellectual property, bankruptcy, insurance coverage, tax, and securities—with offices in Dallas, Fort Worth and Austin.
For more information, visit www.wickphillips.com.
View PDF