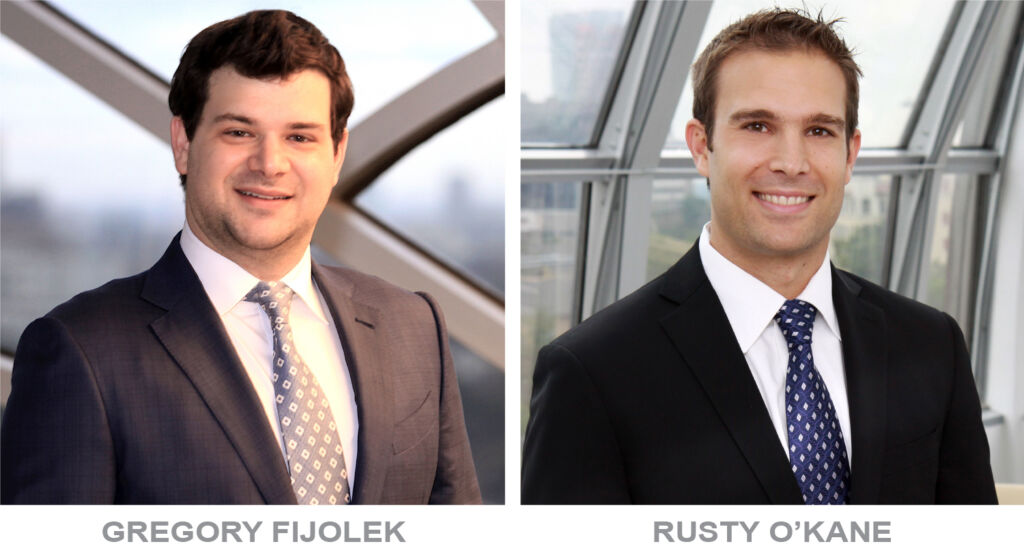 Dallas, Texas, January 17, 2023 – Gregory Fijolek and Rusty O'Kane have been listed in the January 2023 edition of D Magazine's Best Lawyers Under 40. The exclusive list honors our city's up-and-coming attorneys, chosen by their peers.
Greg, a partner in the corporate section of Wick Phillips, focuses his practice on corporate/securities, private equity, mergers and acquisitions, joint ventures, private securities offerings, and general corporate matters. He regularly advises registered and unregistered investment advisers with respect to investment management activities and the formation, structuring, marketing, and operation of private investment funds.
Rusty, Board Certified by the Texas Board of Legal Specialization in Civil Appellate Law, is a civil trial and appellate attorney in the Litigation section of Wick Phillips, focusing on a variety of commercial litigation and corporate counseling matters. He focuses on all forms of contract disputes, with special emphasis on Texas Anti-SLAPP cases, franchise disputes, landlord/tenant disputes, restrictive covenant and non-compete cases, fraud, breach of fiduciary duty, and theft of trade secrets. Rusty has successfully represented individuals, small business owners, financial institutions, and Fortune 500 companies in all types of matters, both as plaintiffs and defendants, including pursuing and defending requests for injunctive relief and trying multiple cases to verdict.
To be selected to the Best Lawyers Under 40 list, D Magazine solicits nominations from lawyers from their online directory and asks them to nominate lawyers whose work they have witnessed firsthand and would rank among the current best under 40. To read more about the selection process and the winners, please click here.
ABOUT WICK PHILLIPS
Wick Phillips is a full-service business law firm serving clients across Texas and the United States. Founded in 2004, the firm has grown to nearly 85 attorneys, specializing in all areas of business law—complex commercial litigation and appeals, corporate transactions, labor and employment, real estate, intellectual property, bankruptcy, insurance coverage, tax, and securities—with offices in Austin, Dallas and Fort Worth.
View PDF