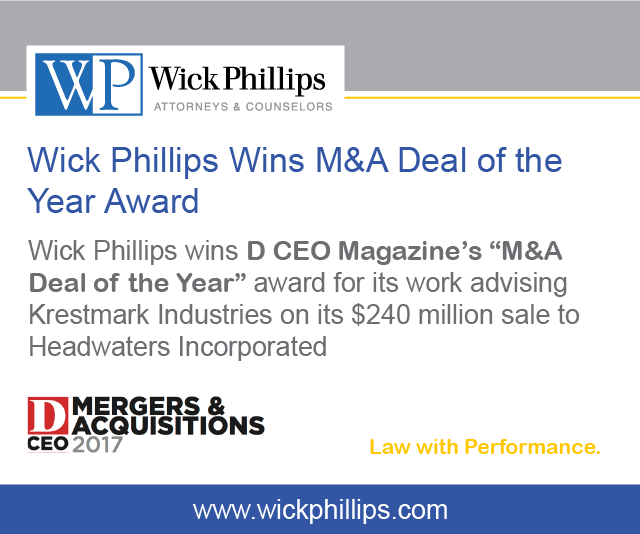 Dallas, Texas, May 25, 2017 – Wick Phillips was awarded D CEO Magazine's "M&A Deal of the Year" award for its work advising Krestmark Industries on its $240 million sale to Headwaters Incorporated during a private event at the Fairmont Dallas on May 23, 2017.
Brad Mahanay, head of the firm's M&A practice, led the Krestmark deal team, which included Fernando Avelar, Zachary Williams, Dan McCarthy and Anna Blair. "Each person on our team has felt grateful to serve Krestmark and Bill Robinson over the years," said Mahanay. He went on to say that "it is an honor to be recognized for our work on this deal even though the real victory is helping our clients achieve success, which is tremendously rewarding." Bill Robinson, owner of Krestmark, said at deal closing that "Wick Phillips' advice and commitment to client service has made them a valuable partner to Krestmark through its growth and sale."
About Wick Phillips
Wick Phillips is a full-service business law firm serving clients across Texas and the United States. Founded in 2004, the firm has grown to more than 50 attorneys, specializing in all areas of business law—mergers and acquisitions, corporate transactions, complex commercial litigation and appeals, real estate, labor and employment, intellectual property, bankruptcy, insurance coverage, tax, and securities—with offices in Dallas, Fort Worth and Austin.
Contact
Chad Cole
Marketing Manager
214.420.4674
chad.cole@wickphillips.com
View PDF