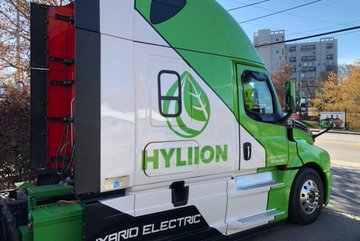 Dallas, Texas, June 19, 2020 – Hyliion Inc. and Tortoise Acquisition Corp. announced this morning that they have agreed to merge, and that following the closing of the merger the combined company will remain on the New York Stock Exchange under the new ticker symbol ("HYLN"). The combined company will receive $560 million of proceeds from a $325 million PIPE along with at least $235 million of cash held in trust, and the pro forma implied market capitalization of the combined company is over $1.5 billion, at the $10.00 per share PIPE subscription price and assuming no public shareholders of Tortoise Acquisition Corp. exercise their redemption rights. Hyliion Inc. has established itself as an industry leader in the electrification of Class 8 trucks with both hybrid and fully electric powertrain solutions capable of achieving a net carbon negative footprint. Tortoise Acquisition Corp. is a special purpose acquisition company formed for the purpose of effecting a merger, stock exchange, acquisition, reorganization or similar business combination with one or more businesses. Tortoise's strategy has been to combine with a company to take advantage of the global opportunities created by the energy transition including clean energy generation and storage, alternative fuels and transportation, technological advances and changes in energy policies.
As part of the transaction team, Wick Phillips served as legal advisors to Hyliion Inc. throughout the process. Wick Phillips partner Matt Zucker says about the deal, "We are very proud of our client Hyliion for reaching this important milestone, and we're excited for how they will leverage it to grow even further."
Thomas Healy, CEO of Hyliion, added "We are so appreciative of the hard work and attention that Matt Zucker and the entire Wick Phillips' team has provided us over the years to get to this point, which has been instrumental in getting us to where we are today.  We look forward to continuing that relationship going forward as we grow Hyliion through this transaction."
Click here to read the full article.
About Wick Phillips
Wick Phillips is a full-service business law firm serving clients across Texas and the United States. Founded in 2004, the firm has grown to more than 65 attorneys, specializing in all areas of business law—complex commercial litigation and appeals, corporate transactions, labor and employment, real estate, intellectual property, bankruptcy, insurance coverage, tax, and securities—with offices in Austin, Dallas and Fort Worth.
For more information, visit www.wickphillips.com.
View PDF