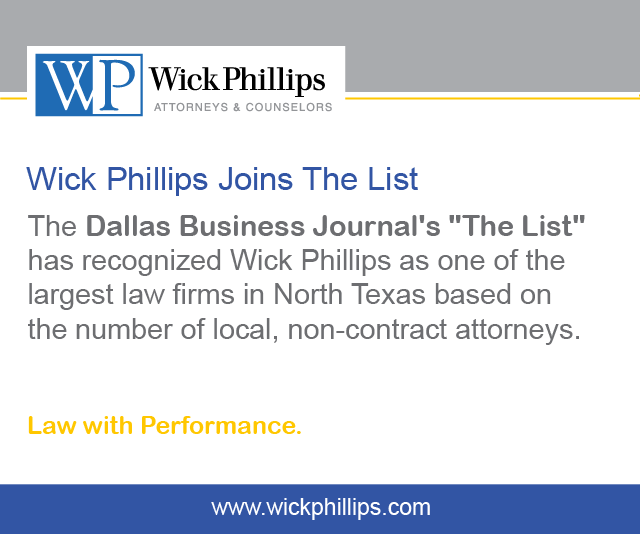 Dallas, Texas, May 25, 2017 – The Dallas Business Journal's "The List" has recognized Wick Phillips as one of the largest law firms in North Texas based on the number of local, non-contract attorneys. Wick Phillips, ranked no. 26 out of 50, has doubled in size in the last four years and continues to add to its ranks, including a partner, of counsel and multiple associates since January 2017.
"Our growth has expanded and enhanced our capabilities, which allows us to better serve our clients with greater personal attention and efficiencies," said managing partner David Drez. Partners of the firm joined Wick Phillips after gaining valuable experience at large law firms, bringing a wealth of knowledge and insight with them.
About Wick Phillips
Wick Phillips is a full-service business law firm serving clients across Texas and the United States. Founded in 2004, the firm has grown to more than 50 attorneys, specializing in all areas of business law—complex commercial litigation and appeals, corporate transactions, real estate, labor and employment, intellectual property, bankruptcy, insurance coverage, tax, and securities—with offices in Dallas, Fort Worth and Austin.
Contact
Chad Cole
Marketing Manager
214.420.4674
chad.cole@wickphillips.com
View PDF