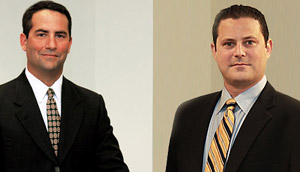 DALLAS, TEXAS – MAY 28, 2013
Bryan J. Wick and Andrew M. Gould, partners with Wick Phillips, a full-service business law firm with offices in Dallas, Fort Worth and Austin, Texas, have been named to D Magazine's "Best Lawyers" in Dallas for 2013.
As part of an annual peer-review nomination process, D Magazine polls almost 9,000 attorneys throughout the Dallas-Fort Worth metroplex, asking them to vote for lawyers that best represent the legal profession. Fellow attorneys vote for nominees who demonstrate high standards in both quality of work and integrity. For 2013, finalists were narrowed down to 385 attorneys segregated into nearly 30 areas of specialization. Wick was recognized as a Best Lawyer in the Litigation category, while Gould was recognized in Labor & Employment.
"It's a privilege for Andy and me to be included in such an important list," said Wick, a founding partner of Wick Phillips. "To be recognized by highly respected peers is the highest professional honor any attorney could achieve."
Wick specializes in the areas of commercial law and bankruptcy litigation. He also counsels clients on pre-litigation matters, as well as corporate and financing transactions.
Besides being named to D Magazine's Best Lawyers lists in 2004, 2006, 2012 and 2013, Wick was cited by the Dallas Business Journal in 2011 as one of the top 40 leaders in Dallas under the age of 40. In 2012, the Collin County Business Press also recognized Wick as one of the area's Top 40 under 40. He has also been on Texas Monthly Law & Politics Magazine's Texas Super Lawyers Rising Star list every year since 2005. Wick earned a B.A. from the University of Pennsylvania and his J.D. from Washington University School of Law.
Gould is the head of the labor and employment practice at Wick Phillips. He regularly counsels corporations on restrictive covenant law and general employment matters; strategic employment decisions; restructuring; labor union relations; employment investigations; and the Americans with Disabilities Act, including public accommodations. Prior to joining Wick Phillips, Gould practiced for many years in the labor and employment section of Akin Gump Strauss Hauer & Feld, LLP. He also worked for the U.S. Department of Labor and the New York Office of the Solicitor.
In addition to being on D Magazine's Best Lawyers in Dallas list in 2005, 2012 and 2013, Gould has also been named to the Texas Monthly Law & Politics Magazine's list of Texas Super Lawyers in 2004, 2005 and from 2008-2012. Gould holds a B.A. from the University of Michigan and his J.D. from Hofstra University.
About Wick Phillips: Wick Phillips is a full service business law firm with offices in Dallas and Fort Worth. Its transactional section handles multiple M&A, financing, real estate, private equity and other commercial matters for a variety of clients. For more information visit www.wickphillips.com.