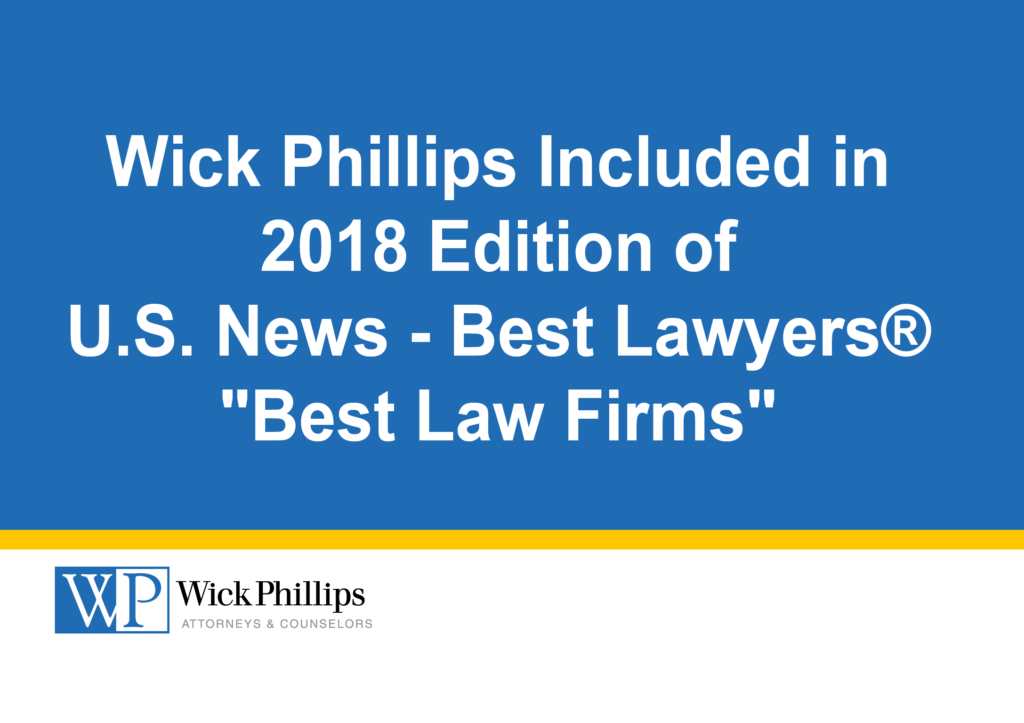 Dallas, Texas, November 7, 2017 – The 2018 Edition of U.S. News – Best Lawyers "Best Law Firms" has ranked Wick Phillips among top firms in litigation—bankruptcy, franchise law and insurance law nationally and in Dallas/Fort Worth.
Dallas/Fort Worth Rankings
Tier 1 – Litigation—Bankruptcy
Tier 1 – Franchise Law
Tier 2 – Insurance Law
National Ranking
According to U.S. News – Best Lawyers "Best Law Firms," firms included in the 2018 Edition "are recognized for professional excellence with persistently impressive ratings from clients and peers."
Three Wick Phillips partners were selected for inclusion in the 2018 edition of The Best Lawyers in America earlier this year.
About U.S. News – Best Lawyers "Best Law Firms"
The U.S. News – Best Lawyers "Best Law Firms" rankings are based on a rigorous evaluation process that includes the collection of client and lawyer evaluations, peer review from leading attorneys in their field, and review of additional information provided by law firms as part of the formal submission process. To be eligible for a ranking in a particular practice area and metro region, a law firm must have at least one lawyer who is currently recognized in Best Lawyers in that particular practice area and metro. Click here to learn more about "Best Law Firms" rankings.
About Wick Phillips
Wick Phillips is a full-service business law firm serving clients across Texas and the United States. Founded in 2004, the firm has grown to more than 60 attorneys, specializing in all areas of business law—bankruptcy, complex commercial litigation and appeals, corporate transactions, insurance coverage, intellectual property, labor and employment, real estate, securities, and tax—with offices in Dallas, Fort Worth and Austin. For more information, visit www.wickphillips.com.
Contact
Chad Cole
Marketing Manager
214.420.4674
chad.cole@wickphillips.com
View PDF