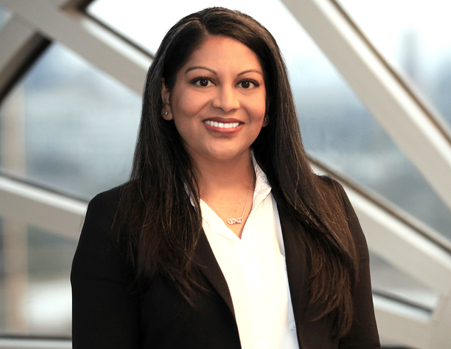 Fort Worth, Texas, March 2, 2022 – Madhvi has been recognized as the Carla Higgins "CREW Future Leader of the Year" for 2021, awarded at the CREW Fort Worth Luncheon today.
Madhvi is a commercial real estate attorney and Of Counsel at Wick Phillips, where she is a member of the real estate practice. Madhvi's legal experience includes representing owners, developers, investors, landlords, tenants, purchasers, and sellers in each facet of commercial real estate transactions, with an emphasis on development and commercial leasing transactions, acquisitions, and dispositions. She received a BS in Business Administration and a BA in French from the University of North Carolina at Wilmington, and a JD from the North Carolina Central University School of Law.
Madhvi has been a member of CREW Fort Worth since late 2020. She is the 2022 Chair of the Treasury Committee and is an active member of the Communications and Mentorship committees. Madhvi's other professional affiliations include the Tarrant County Bar Association, the Dallas Bar Association, the Dallas Asian American Bar Association, the Dallas Women Lawyers Association, and the South Asian Bar Association. Additionally, Madhvi also serves as a mentor to young attorneys through the DBA/DAYL STEER Program and the DBA Minority Participation Committee.
The Carla Higgins CREW Future Leader of the Year award recognizes a CREW Member with less than 10 years of real estate experience who has given extraordinary service to CREW Fort Worth for the applicable year. The recipient has shown their commitment to CREW Fort Worth, is a person of honor and integrity who is a leader within the commercial real estate industry and for CREW. This person actively serves and is always a good representative of CREW Fort Worth within the community.
About Wick Phillips
Wick Phillips is a full-service business law firm serving clients across Texas and the United States. Founded in 2004, the firm has grown to more than 80 attorneys, specializing in all areas of business law—complex commercial litigation and appeals, corporate transactions, labor and employment, real estate, intellectual property, bankruptcy, insurance coverage, tax, and securities—with offices in Austin, Dallas and Fort Worth.
For more information, visit www.wickphillips.com.
View PDF