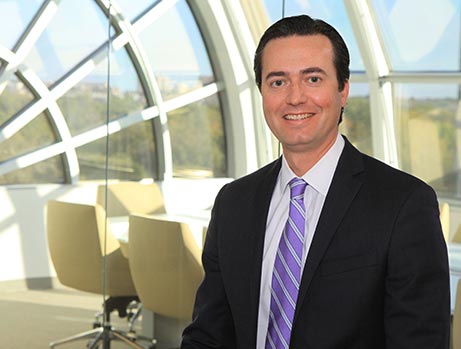 Fort Worth, Texas, April 16, 2018 – The Fort Worth Business Press (FWBP) has recognized Wick Phillips litigation partner Jacob Fain as one of its 40 Under 40 honorees for 2018. Wick Phillips' managing partner, David Drez, congratulated Jacob by saying that "we are pleased the FWBP has chosen to honor Jacob this year and recognize the value he brings to clients."
Jacob counsels clients in a broad variety of contract-based disputes, including those related to oil and gas royalties, non-competition and non-solicitation agreements, and purchase and sale agreements. Super Lawyers named Jacob a Rising Star in March.
The FWBP states that the 40 Under 40 recognizes "40 honorees each year, all under the age of 40, destined for striking accomplishments in their chosen field, from the corporate sector to maverick entrepreneurialism. They are leaders today and are sure to be part of the next generation that will make Tarrant County a great place to live and work." The FWBP will host an event on April 25 at the Cendera Center to celebrate this year's honorees.
About Wick Phillips
Wick Phillips is a full-service business law firm serving clients across Texas and the United States. Founded in 2004, the firm has grown to more than 65 attorneys, specializing in all areas of business law—complex commercial litigation and appeals, corporate transactions, labor and employment, real estate, intellectual property, bankruptcy, insurance coverage, tax, and securities—with offices in Austin, Collin County, Dallas and Fort Worth.
Wick Phillips was recognized as one of the largest firms in North Texas by the Dallas Business Journal's "The List" in 2017 and was included in the 2018 Edition of U.S. News – Best Lawyers® "Best Law Firms." Read our Year in Review.
For more information, visit www.wickphillips.com.
Contact
Chad Cole
Marketing Manager
214.420.4674
chad.cole@wickphillips.com
View PDF