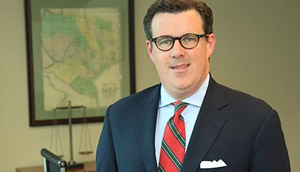 DALLAS, TEXAS – FEB. 7, 2013
Wick Phillips, a full-service business law firm with offices in Dallas, Fort Worth and Austin, Texas, announces the addition of Daniel McCarthy as a partner in its Fort Worth office. McCarthy specializes in assisting clients with structuring new business entities, planning joint ventures, mergers and acquisitions, asset protection planning, business succession planning, and estate planning.
"With the addition of Dan, we are even better situated to provide the most thorough planning services to our clients in a timely and cost effective manner," said Bryan Wick, partner of Wick Phillips. "Dan's background and skill set in this field makes him an invaluable asset. Having him on board extends our tax, estate and business planning expertise, and allows us to broaden our core offering of services to our clients."
Before joining Wick Phillips, McCarthy practiced with The Blum Firm, P.C. He is Board Certified in both Tax Law and Estate Planning & Probate by the Texas Board of Legal Specialization and is a Certified Public Accountant. McCarthy is a member of the Texas State Bar and American Bar Association, and also serves as the Chairman of Business Investment Entities Committee of the American Bar Association's Real Property, Trust and Estate Law Section.
McCarthy is the Past President of Tarrant County Tax and Estate Planning Section, as well as the Past Chairman of Estate and Gift Tax Committee for the State Bar of Texas Tax Section. In 2012, he was named as a Texas Super Lawyer by Texas Monthly Magazine, and one of Tarrant County's Top Attorneys in Tax Law by Fort Worth, Texas Magazine in 2010 2011, and 2012.
McCarthy earned his B.S. in accounting from the University of Illinois and his J.D. from DePaul University College of Law. McCarthy is licensed to practice in Texas.
About Wick Phillips: Wick Phillips is a full service business law firm with offices in Dallas and Fort Worth. Its transactional section handles multiple M&A, financing, real estate, private equity and other commercial matters for a variety of clients. For more information visit www.wickphillips.com.