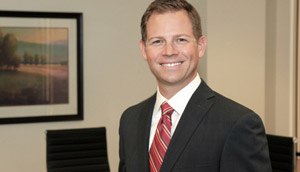 DALLAS – FEB. 20, 2014
D.C. Sauter has been named a partner with Wick Phillips, a full service business law firm based in Dallas, where he will specialize in commercial real estate and litigation.
Sauter's practice focuses on real estate transactions and real-estate related disputes. He represents borrowers, lenders, developers, landlords and tenants in all aspects of commercial real estate, including acquisitions and dispositions, entitlements, construction, financing, leasing, condemnation, foreclosures and workouts.
Before Wick Phillips, Sauter served as in-house counsel to a commercial real estate developer, where he oversaw all stages of real estate development, handled litigation matters and managed outside counsel.
Sauter also has significant experience practicing complex commercial litigation, with a focus on real estate and construction-related disputes. He has handled matters involving errors and omissions in design and contract administration, construction defect claims and related CGL coverage issues, surety performance-bond claims and takeovers, title insurance claims and salvage matters.
"D.C.'s litigation and in-house experience provides him with a unique perspective in handling commercial real estate transactions, and it makes him a very valuable and reputable addition to the Wick Phillips team," said Chris Fuller, partner in Wick Phillips' Commercial Real Estate Division.
While at Southern Methodist University's Dedman School of Law, Sauter served as a member and articles editor of The International Law Review Association. He is currently a member of the Dallas Bar Association's Construction Law and Real Estate Sections; the Construction Law and Real Estate, Probate, and Trust Law Sections of the State Bar of Texas; and the Bar Association of the Fifth Federal Circuit. He is admitted to practice in the United States Court of Appeals for the Fifth Circuit and the United States District Courts for the Northern, Southern, Eastern and Western Districts of Texas.
About Wick Phillips: Serving the legal needs of businesses in a broad range of industries, Wick Phillips practices law with purpose. Specialty areas include commercial litigation, bankruptcy, creditor's rights, civil appeals, corporate, corporate advisory, labor and employment, and securities. For more information visit www.wickphillips.com.