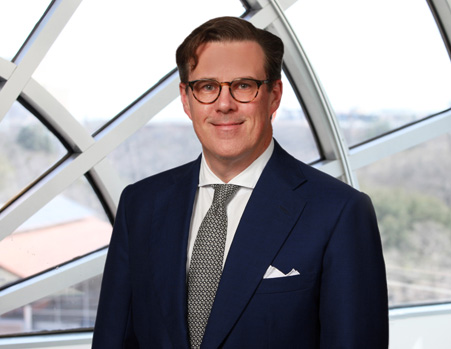 Dallas, Texas, March 7, 2023 – The North Texas Community Foundation honored Wick Phillips partner Dan McCarthy today at a luncheon held at the TCU Legends Club in Fort Worth. NTCF's Board of Directors presented the Professional Advisor of the Year award to Dan in recognition of his outstanding contributions to the field of estate planning and expertise in providing clients with smart charitable giving solutions.
The luncheon, hosted by the North Texas Community Foundation at the TCU Legends Club, was held to celebrate donors and nonprofit partners creating a better future for our region. Featured speakers for the program included Mike Berry, President of Hillwood, a Perot Company, Horatio Porter, CFO of North Texas Tollway Authority, Daniel Pullin, President of Texas Christian University, and Natalie Young Williams, J.D., Executive Director of T3 Partnership.
Dan works with closely-held businesses and their owners to devise business structures that minimize income and estate tax, facilitate effective business succession plans, and protect assets. For entrepreneurs who have built considerable wealth over the course of their lives, Dan excels in helping to maximize the impact of their charitable giving. As one of Dan's clients so aptly put it: 'Dan McCarthy gets the job done!'
To learn more about the NTCF click here.
ABOUT WICK PHILLIPS
Wick Phillips is a full-service business law firm serving clients across Texas and the United States. Founded in 2004, the firm has grown to nearly 85 attorneys, specializing in all areas of business law—complex commercial litigation and appeals, corporate transactions, labor and employment, real estate, intellectual property, bankruptcy, insurance coverage, tax, and securities—with offices in Austin, Dallas, and Fort Worth.
For more information, visit www.wickphillips.com.
View PDF